Attorney Profiles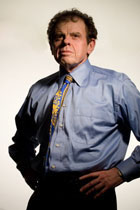 The Jacobson Law Group consists of Warren Jacobson, Attorney, and Roslyn Jacobson, Hearing Representative, and their staff. We not only successfully represent our clients, but we have a long history of educating other professionals, legal staff, and local unions on the substantive and procedural law in which we practice.
Warren Jacobson holds a Bachelor of Arts from Cornell University and a Juris Doctor from Southwestern Law School in Los Angeles, where he was a contributing member of Law Review. In addition, he received the American Jurisprudence Award for Conflicts as well as the American Jurisprudence Award in Constitutional Law. He also has a Masters Degree in Business Administration. Warren Jacobson utilitzes his vast experience in representing clients for Personal Injury, Workers' Compensation, Criminal Defense, DUIs, Contracts and Business Litigation, and Wills and Trusts.
Because of our passionate, collaborative teamwork, clients benefit from our aggressive and experienced approach to each case. We are honored by the fact that the majority of our clients come from referrals of past or existing clients. This is confirmation our successful legal representation.